Need Lancia Parts?
Once upon a time, Lancia automobiles used to be sold here in the United States. While they may no longer be exported here, and are actually only sold now in its home country of Italy, that doesn't mean people still don't own these beautiful machines or need replacement parts. Because of this exclusivity, finding new aftermarket Lancia parts is a hassle. At 1A Auto, it is our mission to supply you with the right parts you need to keep your Lancia car working in tip top shape, at a great discount. Simply put, if you are in need of a replacement part for your Lancia you've come to the right place. You'll find a large selection of new, high quality aftermarket Lancia auto parts, such as dash pad covers.
Our product development team spends over 8,000 hours a year researching the best auto parts, and they are carefully selected by our trained engineers so you can rest assured that you are getting the correct, high quality part you need for your car, at a discount price. If we wouldn't put the part in our own vehicles, we won't sell them to anyone else. A new aftermarket replacement Lancia part from 1A Auto will save you 30-50% on average over a comparable new OEM replacement Lancia part that you would get at a dealership, and our new aftermarket Lancia parts are also extremely durable and reliable. Don't overpay for Lancia auto parts and save yourself from a lot of potential headaches by shopping at 1A Auto.
You can shop for all of your Lancia car parts online and buy safely and securely right here on our website, or you can call our customer service toll free at 888-844-3393 if you have any questions about any of our parts, or to buy over the phone. With over 150 years combined experience, 1A Auto's customer service representatives are the most qualified to answer your questions about all of our new, aftermarket Lancia parts. Our representatives answer 99.9% of phone calls in less than one minute and emails are responded to within the hour because we know you need answers quickly to get your Lancia car back in working order again. We also know you want your part fast for the same reason; 98% of in stock Lancia auto parts ship from our warehouse within one business day so that you can get back on the road in no time, and all ground shipping in the continental U.S. is completely free. And, in the unlikely case that you are unhappy with your Lancia auto part for any reason, 1A Auto also offers the only No Hassle return policy for unused items in the industry. Simply put, our competitors can't beat the 1A Advantage. Don't just take it from us - take it from over 50,000 satisfied customers!
Look no further than 1A Auto for your aftermarket, original equipment (OE) replacement, and new Lancia auto parts and get your car the parts it needs today from Lancia enthusiasts just like you! If you happen to be an enthusiastic Lancia owner, have a deep passion for Lancia vehicles, or just want to learn more about the automobile manufacturer, continue reading below for a detailed look at the brand's history and some of its past and present models.
Overview
Lancia Automobiles S.p.A., commonly referred to simply as "Lancia," is an Italian automotive brand originally founded in 1906 and now owned by Fiat Chrysler Automobiles (formerly Fiat S.p.A.). The company only exported vehicles to the U.S. market for a short period of time, withdrawing completely in 1982. The company no longer exports cars outside of its home market of Italy.
Contents
1. Origin
2. The Birth of Lancia Co.
3. Post War Period
4. Fiat's Acquisition
5. Lancia Today
Origin
Lancia's history begins in the year 1906 when Vincenzo Lancia founded Lancia & Co. in Turin, Italy. Lancia's interest and natural skill for numbers lead to an education in bookkeeping at the Turin Technical School, but his true passion lay in the automobile. At his family's winter house, a man named Giovanni Battista Ceirano rented a workshop in the courtyard to repair and trade imported bicycles. His operation was called Welleyes Bicycles and it was there that Lancia caught a glimpse of mechanical engineering. Ceirano, along with his brothers Giovanni and Matteo, brought Lancia into the company in 1898 as a bookkeeper, but it was evident that his fascination with the early automobile was what really attracted him to the firm. Lancia studied the designs and mechanics of the early automobile and in 1899, Ceirano developed his first motor car. Not long after, Lancia became known for his quick and efficient skill at diagnosing faulty car parts. The firm, however, would be purchased by Fiat S.p.A. and Lancia, who had created a small reputation in Turin, found himself promoted to a chief inspector position at a new factory. But it would be his fascination for the automobile that lead to a test driving position, and it wasn't long before he became one of the key parts of Fiat's Racing Team. Lancia's natural feel for driving was so impressive that he won his first race, and it would lead to a series of records and wins throughout his ten year career.
Lancia had his own plans in mind though, and he and his fellow friend Claudio Fogolin (who was also a test driver for Fiat) went on to found Lancia & Co. in 1906. They possessed a strong desire to improve the engineering and technology of the automotive industry, and much of this may have stemmed from Lancia's frequent breakdowns on the racetrack with Fiat.
The Birth of Lancia & Co.
Lancia's first model was named the Tipo 51 (later renamed the Lancia Alfa 12 HP), and despite a fire that pushed back the revealing to September of 1907, the car was a big feat for not only the company but also the industry. The Alfa abandoned the high and heavy chassis for a lighter version and included u-joints rather than a chain transmission. It was so large that a door had to be knocked down to reveal it. Most of all, it was the perfect encapsulation of what Lancia's driving style was like: full of vigor and speed. It could reach up to 56 mph and kicked 10 to 12 horsepower with a 4-cylinder engine that captivated the public with its high power and revolution speed (for the time). Lancia began full-fledged production of the vehicle in 1908.
Many other Lancia models would follow in the tradition of the Alfa to be named after letters in the Greek alphabet in subsequent years, such as the Theta, Lambda, Didelta, and Gamme, to name a few. With the Alfa, Lancia had finally broken into the automotive game. In addition to passenger cars, from the very beginning of its existence Lancia also produced a wide range of vans, buses, military vehicles, and trucks like the Jota which was Lancia's very first truck (produced in 1915) and led to the production of a series of trucks with the same name. The company formed Lancia Veicoli Industriali in 1912 for the production of these various types of vehicles. Lancia slowly withdrew from the production of commercial vehicles during the late 1960s, however, ceasing production entirely in the early 1970s not long after Fiat S.p.A. acquired Lancia. Some industrial models were transferred to Iveco, an Italian industrial vehicle manufacturing company that Fiat created in 1974 as a result of the merger of a few different companies.
Lancia remained a test driver for Fiat in the early going of the companies' formation, but now just for his own products; he eventually gave up racing altogether in 1910 to focus on his company. His last race was rightfully with a Lancia car. Lancia's strive for innovation also lead to several manufacturing patents and designs that were well before their time, such as an independent wheel suspension, the V engine, V cylinder combustion engine, the V8 combustion engine, adjustable steering wheel, and front axle independent wheels. Lancia's mechanical skill and innovation lead to impressive vehicles. The Dialfa, introduced in 1908, had one of the first inline 6-cylinder engines in a car, but it was distasteful to the public and was quickly put on the shelf. The Beta was also released in the following year. The 1911 Eta was known as one of the fastest cars of its time with a speed of 75 mph. The greatest advancement came with the beautiful Theta in 1913. The Theta had an electrical system that was used to start the engine and provide lighting. It was a huge step, as the car pushed away from the use of fueled lamps and began to drift towards the use of electronics.
As it did for other automotive companies, the onset of WWI prompted Lancia to halt production in aid of the war. They helped manufacture military vehicles such as the IZ/IZM, iota, and Dim by providing key components like the chassis. Right after the war, in 1922, Lancia revealed one of their most impressive cars: the Lambda. It was known for its exceptional performance but also its push of conventional design that would firmly establish Vincenzo Lancia as not only an advocate for great performance and speed, but also one for innovation. The Lambda would be lauded for its amelioration of the conventional car by improving the riding standards with its innovative independent front suspension, simplified steering, and monocoque construction, which later lead to the common unibody design. Lancia credited the inspiration for the Lambda to a ship's hull, pressing for a car that could handle rough roads like a ship could handle treacherous waves. The car and its V4 engine would not be without their faults, but it was a giant step for the automotive industry, especially in Europe.
By the late 1920s and early 1930s Lancia focused on manufacturing custom-built bodies and altered the Lambda to fit customer's personal tastes upon their request. They released the Di-Lamba, which abandoned the monocoque design and used a V8 instead of the Lambda's V4. Due to the custom build, these models were built on a rolling chassis for easier and more practical assembly; this type of manufacturing lead to models such as the Artena, Astura, and Augusta – all cars with suicide doors. The Augusta, like the Lambda and many others, was innovative in its own way. It was available as a four-door sedan or a two-door convertible and aimed to be a small car with exquisite style.
Lancia continued to focus its efforts on the engine and style, and his work never ended. The company revealed the Aprilia, a model known for its aerodynamic styling and four-wheeled rear torsion bar suspension with rear brakes. Lancia himself never saw the Aprilia reach past the prototype stage, but it fulfilled his idea of fitting five passengers instead of four in a car. It could reach up to 48 horsepower at 4300 rpm, and it returned to the early unibody design. It also had an aluminum V4 engine and featured a pillar-less body. Sadly, Vincenzo passed away on February 15, 1936, but his son Gianni, along with Vincenzo's wife, took the reins of the company and continued on with the same rigorous intellect and passion for the company that his father had.
Post War Period
With WWII approaching, the company created a factory in Bolzano and eventually moved all operations out of Turin. Once again the constant production for the war and its aftermath in Italy made for a difficult recovery, but luckily Gianni Lancia had a few ideas in mind. The first car to return was the Ardea, which first appeared in 1939. It came with a V4 and five-speed transmission, and could reach up to 70 mph. The key was to make the vehicle light, which helped with production costs and performance. It eventually reached up to 30 horsepower in the 1940s, with aluminum cylinder heads. Gianni's innovation really came out with his desire to restructure the Aprilia. The result birthed the Aurelia - a car decorated in aluminum and equipped with a V6, vertical pillar independent front suspension, rear differential, and a rear mount assembly. It could reach up to 80 horsepower with a 105 maximum speed. It was the first all-new Lancia car since Vincenzo's death, and it even came with a GT version.
While Gianni had a similar interest in innovation like his father, their real similarity was their fondness for racing. To lift the company into the realm of prestige and performance, a racing program was established in the 1950s. The program turned out to be wildly successful on the track. The 024, a speedy little car that could reach 265 horsepower, took part in many races and winning several for the company. But the need for speed didn't end there, and one of their finest and most innovative models intended for Formula One Racing ended up in the hands of Ferrari due to a lack of funds.
Lancia, on the brink of a financial crisis, restructured itself to stay afloat. The Pesenti family took over control of the company from the Lancia family in 1956. Shrunken considerably in size, the company aimed to sell expensive cars with high quality. They went back to the drawing board and revealed the Flaminia for 1956. The Flaminia strayed from the independent front suspension but was equipped with a V6 and a rear mounted transmission. Like many of their older cars, the Flaminia was desired for its easy remodeling and changeable perks. The restructure also lead to cars like the Flavia and the Fulvia. The Fulvia was known as a small front-wheel drive sedan and came with a 60 horsepower V4. Unfortunately a heavy sales tax on new cars and the temptation of participating in races and rallies lead to another financial crisis, though the Fulvia continued to participate in races in its later years. Losing significant amounts of money, Lancia sold its efforts to Fiat S.p.A. in 1969 and was thus incorporated into the Group's business activities.
While Fiat S.p.A had initially been founded and focused on the production of cars as well as industrial and agricultural vehicles, by this time it had become a huge conglomerate in Europe, and the Fiat Group's activities had branched out into many other sectors of industry with a typewriter company, electrical equipment makers, a construction company, Alitalia, and toll highways (which seems like double-dipping) all in its diversified portfolio. Management decided to reorganize Fiat S.p.A on a product-line basis, with two main product groups: one that included passenger cars and another that included trucks and tractors, in addition to a number of semi-independent divisions and subsidiaries. In 1979, Fiat S.p.A transformed itself from a corporation into an industrial holding company. It spun off its various businesses into a number of autonomous companies covering various separate operations, one of them being Fiat Auto, now a subsidiary of Fiat S.p.A, which would now handle all Fiat-branded car activities and included its other automotive companies owned at the time, including Lancia.
Fiat's Acquisition
This was not the end of the distinctive Lancia brand however, as new models in the 1970s would prove that Fiat S.p.A. wanted to maintain the prestige of the marque it had acquired. Fiat oversaw Lancia's return to the Greek alphabet in the naming of its models. They kept quality and price as features, and the first model released under their control was the Beta. It came as a sedan or a coupe and was fairly popular. Lancia even took another shot at the U.S. market in 1975 with the car, as well as with other models like the Scorpion. While Lancia had exported some models to the United States in the 1950s and 1960s, 1975 marked the official date of entrance to the market. Unfortunately, sales were slow and Fiat decided to pull its own vehicles, along with those of Lancia, from the U.S. market in 1982.
The Scorpion, also known as the Delta, would become one of Lancia's greatest rally cars outside of the U.S., however. The art of rallying, which was an opportunity to show off a cars speed, performance, and durability, led to a fairly successful decade of business for the brand in the 1970s in Europe. Their growing reputation was aided with cars like the Gamma, Stratos, and Montecarlo, and one of their most exciting cars, the Stratos, came with a Ferrari inspired Dino V6 engine in 1973 and participated as a rally car for the company as well. It came with Lancia's signature all-wheel suspension and brakes, proving that Fiat had no intention to change or alter Lancia's initial vision with high-end cars. The Montecarlo's 4-cylinder engine with a five speed transmission was one of their highly sought after sports cars that also came as a semi-convertible. However, Lancia's reputation for speed and luxury slowly faded with Fiat's acquisition of Alfa Romeo in 1986. In fact, Fiat merged Alfa and Lancia to form Alfa Lancia S.p.A., which started trading in 1987.
Lancia's reputation took another blow in the 1980s due to a highly publicized initiative by the company to recall defective Lancia Beta models from owners (due to corrosion issues), which they then eventually destroyed. Lancia never recovered from the damage that this event, in combination with a number of other factors such as uncompetitive pricing in relation to the perceived value of their vehicles, Lanica decided to no longer sell their vehicles in the right hand drive market, aside from its home base of Italy. It also dropped out of other left hand drive markets in the years to come as well, like the United Kingdom, which it stopped exporting to in 1995.
The 1990s brought a different feel to Lancia. They eventually changed into a semi-luxury brand, offering models such as the Dedra HF Turbo and the Kappa, and by the 2000s kept all of the common perks like keyless entry as well as massage seats and a solar powered sunroof on the Thesis.
Lancia Today
In 2007, Fiat S.p.A reorganized its automobile business again and Fiat Auto S.p.A became Fiat Group Automobiles S.p.A., a wholly-owned subsidiary of Fiat S.p.A. The renamed subsidiary included five companies as part of the restructuring: Alfa Romeo Automobiles S.p.A., Lancia Automobiles S.p.A., Fiat Automobiles S.p.A., Fiat Professional (light commercial vehicles) and Abarth & C S.p.A. The Fiat Group's other automotive companies, Ferrari S.p.A. and Maserati S.p.A, each would operate independently under ownership of Fiat S.p.A.
Another major event would shake up Fiat in 2009. In April of that year, Chrysler LLC filed for bankruptcy. On June 10, 2009, Chrysler LLC emerged from a Chapter 11 restructuring overseen by the U.S. government, with the majority of all of Chrysler's assets being sold to what was called "New Chrysler", which became Chrysler Group LLC in alliance with and owned in part by Fiat. The U.S. government lent support to the deal in the form of 6.6 billion US dollars in financing, which was paid out to the "Old Chrysler," formerly Chrysler LLC, and now a company called Old Carco LLC. Initially after the bankruptcy proceedings were complete, Fiat only owned 20% of the new Chrysler Group LLC company.
For a short while in Europe, Lancia and Chrysler became interchangeable, and certain models that were originally Lancia's were rebadged as Chryslers. The Ypsilon, a "supermini" which takes on the form of a compact hatchback, is a great example of this. It held a wonderful and elegant interior and was certainly fit for the Lancia name, which may explain why it's one of the few surviving models still in production under the Lancia badge.
In 2011, Fiat's stake in Chrysler was increased to over half when it bought the shares of Chrysler that were being held by the U.S. Treasury and Canada. Fiat continued to gradually acquire the other parties' shares and increase its ownership stake in the company over the next couple of years. In January of 2014, Fiat S.p.A. purchased the remaining 41.5% of Chrysler Group LLC from the United Auto Workers, taking complete ownership, and announced that it would be reorganizing and merging into a new holding company. In July of 2014, Fiat announced how this would all take place, and that Fiat S.p.A. (which now wholly owned the Chrysler Group) would be merged into Fiat Investments N.V., a new Netherlands based company. Fiat Investments would then be renamed Fiat Chrysler Automobiles N.V. and would become the new holding company of the Fiat Group, once shareholders approved which it was in August. In October, the merger was approved and Fiat S.p.A. and Chrysler Group LLC were officially merged together to form Fiat Chrysler Automobiles (FCA). It was established as a Netherlands-based holding company with its global headquarters located in the United Kingdom, with two wholly owned automotive subsidiaries under its control: Fiat Group Automobiles, which houses Abarth, Alfa Romeo, Fiat (Fiat's own branded cars), Fiat Professional and Lancia, and Chrysler Group, which houses Chrysler, Dodge, Jeep, and Ram Trucks. FCA also continued its direct ownership of other former Fiat S.p.A. companies, such as luxury car manufacturer Maserati and Mopar, a components manufacturer.
Since Fiat's total acquisition of Chrysler in 2014, the newly established company, FCA, has set its sights on the global market. Today, Lancia has returned to its original roots and has been designated as an Italian-only brand by FCA, no longer exporting cars outside of its home market.
Over 4,000
Installation
Videos
---
Watch the 1A Auto Videos
We're here to help
888-844-3393
hablamos español: 866-401-3393
Customer Feedback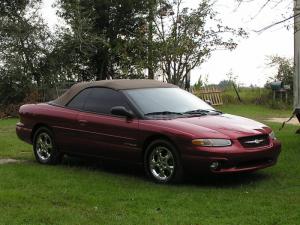 "Thanks for the fast reliable service. Great price, and the headlights were as good as oem or better!!! Keep up the good work..."
- Dwuan M.
---
Read More